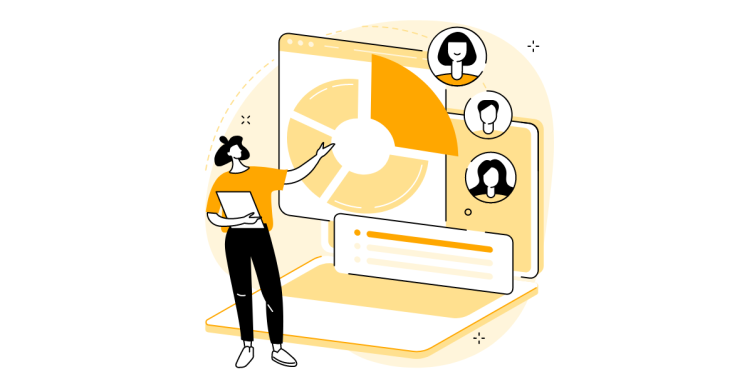 Tips for Creating User-Centric Product Demo Videos
Date Posted: September 7, 2023
In the dynamic realm of software, engaging your audience is not just a goal, but a strategic imperative. Elevating your product demo videos with a user-centric approach can be a game-changer.
Let's jump into a step-by-step guide to crafting compelling demos that resonate with your viewers and elevate your software's impact:
Know Your Audience Inside Out
Deep dive into understanding your audience's pain points, aspirations, and unique challenges.
Develop a comprehensive profile of your target user to tailor your video content effectively.
Example: If your target user is a young, working professional looking to make their work week more efficient, a pain point may be that they spend too much time in meetings.
Our newsletter, Unlocking the Power of User Personas in Product Demos, explores the importance of user personas when crafting an effective product demo video.
Solve User Challenges at the Core
Address your audience's pain points and challenges through your software solutions.
Unveil how your software directly and effectively resolves the hurdles your audience faces daily.
Example: If a pain point for your target audience is that they regularly waste time in back-to-back meetings throughout the day… highlight this in a way that's relatable, and will resonate with your audience.
Highlight Solutions Tailored to Your Users
Shine a spotlight on specific features of your product that will enhance the user experience.
Empower your users by showcasing solutions that align with their distinct needs and workflows.
Example: If your platform is an instant messaging, productivity platform (i.e. Slack), explain how your platform will replace meetings, save your audience time, and allow them to focus on other work.
Weave Stories of Empathy
Create captivating narratives within your product demo that forge emotional connections with your audience.
Transport your viewers into a realm that resonates with their desires, aspirations, and real-life scenarios.
Example: If your platform is an instant messaging, productivity platform (i.e. Slack), the scenario to showcase would be one that highlights a day consumed by back-to-back meetings.
Emphasize Benefits Over Features
Illustrate the transformative benefits your software brings to the table.
Showcase how your software seamlessly integrates into users' lives, boosting their efficiency and productivity.
Example: For an instant messaging platform such as Slack, focus on the benefits of your platform (i.e. saved time, increased collaboration amongst the team, less meetings) rather than the features of your platform (instant messaging, group messaging).
Simplify and Clarify Your Message
Ensure that your demo video is straightforward, and easy to follow so that you don't lose the viewers' attention.
Provide tangible solutions that address user complexities, enhancing the appeal and usability of your software.
Example: For an instant messaging platform such as Slack, clear and concise messaging that highlights the main pain point of your target user (i.e. too much time spent in meetings), and how your platform will mitigate these issues, will allow the viewer to see the potential and follow along with ease.